COPYRIGHTS AND RESTRICTIONS AND CONDITIONS OF THIS WEBSITE
Some of the most striking examples of animation art surviving today exist due to the forward thinking of art dealer and entrepreneur, Guthrie Sayle Courvoisier. A visionary well before his time, Courvoisier was the first person to build a mass market for the original artwork created by Walt Disney's artists for use in the production of his animated motion pictures.
The COURVOISIER GALLERIES of 133 Geary Street in San Francisco, California was established by Guthrie's father, Ephraim B. Courvoisier in 1905. Offering their patrons the finest in framed oils and prints, the Courvoisiers built a reputation as prominent West coast dealers of fine art. Guthrie Courvoisier became the president of the gallery in 1934 when his father retired. Quick to recognize the phenomenon developing around the merchandising of the films of Walt Disney, Guthrie saw an opportunity for the Courvoisier Galleries to do for Snow White what Ingersoll watches had done for Mickey Mouse.
Throughout the early part of 1938 Courvoisier entered into dialogs with Walt and Roy O. Disney detailing his idea to market the production art created for Snow White And The Seven Dwarfs as original works of fine art. Disney's first animated feature was a huge success with Walt Disney himself emerging as a true artist of his era. Guthrie believed that the artwork created for Disney's films could be equally successful if marketed properly through galleries all over the world.
GUTHRIE SAYLE COURVOISIER
In advance of acquiring a signed contract from the Disneys, Courvoisier discussed his idea with Herman "Kay" Kamen, an adman from Kansas City who represented the Disneys in the merchandising business and in the licensing of Disney products. Through Kamen a department store in St. Louis called Stix, Baer & Fuller was the first to test market original art from Snow White And The Seven Dwarfs. This was short lived after Guthrie was made aware of their availability. Courvoisier wrote the Disneys and Kay Kamen an impassioned letter stating that the department store approach cheapened the potential of creating a fine art venue for animation art. Roy Disney agreed and asked that the department store consignment of Disney art through Kamen be stopped.
On July 19th, 1938 Courvoisier secured a written agreement with the Disneys granting the Courvoisier Galleries the exclusive rights to market original Disney art starting with about 7,000 cels from Snow White And The Seven Dwarfs. With the contract signed, Courvoisier made several precontract sales to the Honolulu Academy of Arts, the Colorado Springs Museum, the San Francisco Museum and the California State Library. Prices varied from piece to piece but were test marketed from $5.00 to $35.00 on up to some cels at $75.00.
During September of 1938 cel paintings consigned through Courvoisier sold rapidly when exhibited at the Julien Levy Galleries in New York City, the Leicester Galleries in London, England and the Charles Sessler Galleries in Philadelphia. Acquisitions purchased from Sessler's gallery became part of the collections at the Metropolitan Museum of Art and Mrs. H.P. Whitney's Museum of Modern Art. Customers eager to obtain art from one of Disney's upcoming projects placed advance orders for artwork from Ferdinand The Bull and Pinocchio.
The favorable outcome from these early gallery sales of Snow White cel paintings proved Courvoisier could establish a fine art market for Walt Disney artwork. With this accomplished, it was determined in February of 1939, that he would be able to offer a greater variety of Disney artwork to the public.
Each piece of art distributed through Courvoisier came with a mat which often contained a handwritten inscription with the character's name or film's title running parallel under the mat's lower left opening. A number of small rectangular labels were affixed to the reverse side of the frame identifying the art as being from a certain production and acknowledging a dated copyright to Walt Disney Enterprises or Productions. Some early labels also warned the owner "This material inflammable; Handle with care; Frame under glass." Cel setups released after Pinocchio frequently included a circular ink stamped "WDP" seal on the presentation backgrounds and/or an "original WDP" ink stamped seal on the mat. Cels sold through Kay Kamen by Stix, Baer & Fuller came without certificates just as those autographed cels which were given away by the Disneys before the Courvoisier contract.
Through the first half of the 1940's Courvoisier remained the sole source for the sale of Disney artwork and continued to distribute art from their numerous short subjects like Little Hiawatha (1937) and The Hockey Champ (1939) and feature films like Fantasia (1940), The Reluctant Dragon (1941), Dumbo (1941) and Bambi (1942) to name just a few. His success continued for years until interest in collecting animation subsided around the mid point of the decade. On September 30th, 1946 both Disneys and Courvoisier agreed that Disney Productions would resume the marketing of their art.
Guthrie Sayle Courvoisier passed away on December 9th, 1966. A proprietor of fine art, he is remembered for having had the foresight to perceive the artwork used to make animation as having a value far greater than its temporary role in motion picture production. Through his efforts animation cels currently hold a place in the homes of families where they have stayed for generations and in museums across the United States.
A wider selection of artwork was prepared for sale which included the continued distribution of production cel paintings from Snow White And The Seven Dwarfs and introduced three new types of animation artwork. They were: key animation and In-betweener's production drawings; master production watercolor backgrounds; and story sketches used during the production of Disney films.
An inventory list dated March 7th, 1939 notes artwork of these types were sent or put aside for sale by Courvoisier. This includes from art from Disney's feature film Snow White And The Seven Dwarfs (1937), and his short subject Ferdinand The Bull (1938). An additional number of cel paintings from Disney's short subjects The Ugly Duckling (1939), The Practical Pig (1939), Brave Little Tailor (1938), Wynken, Blynken and Nod (1938), Donald's Penguin (1939), The Beach Picnic (1939), The Pointer (1939) and Donald's Golf Game (1938) were also released for sale at this time. Production cel setups, backgrounds, animation pencil drawings, story sketches and even some of the "multiplane" oil paintings created on glass from Walt Disney's second feature film Pinocchio (1940) soon followed.
Cel setups distributed through Courvoisier were commonly sold with and without presentation backgrounds. However there were a select group of cel setups from Snow White And The Seven Dwarfs, Ferdinand The Bull and later on some of the cel setups from Pinocchio and Dumbo which actually included master production backgrounds. A Pinocchio cel setup with a master production background from this period is known to have originally retailed for $45.00 and was marked down to $35.00 framed and was available for $25.00 unframed.
Images are © Disney Enterprises Inc.
The author would like to thank Sarah Baisley for giving me a platform to create without micromanaging me or being competitive. Images from The Research Library at Animation Art Conservation.
This article is owned by © Ron Barbagallo.
ALL RIGHTS RESERVED. You may not quote or copy from this article without written permission.
YOUR USE OF THIS WEBSITE IMPLIES YOU HAVE READ AND AGREE TO THE "COPYRIGHT AND RESTRICTIONS/TERMS AND CONDITIONS" OF THIS WEBSITE DETAILED IN THE LINK BELOW:
LEGAL COPYRIGHTS AND RESTRICTIONS / TERMS AND CONDITIONS OF USE
INSTRUCTIONS ON HOW TO QUOTE FROM THE WRITING ON THIS WEBSITE CAN BE FOUND AT THIS LINK.
PLEASE DO NOT COPY THE JPEGS IN ANY FORM OR COPY ANY LINKS TO MY HOST PROVIDER. ANY THEFTS OF ART DETECTED VIA MY HOST PROVIDER WILL BE REPORTED TO THE WALT DISNEY COMPANY, WARNER BROS. OR OTHER LICENSING DEPARTMENTS.
ARTICLES ON AESTHETICS IN ANIMATION
BY RON BARBAGALLO:
The Art of Making Pixar's Ratatouille is revealed by way of an introductory article followed by interviews with production designer Harley Jessup, director of photography/lighting Sharon Calahan and the film's writer/director Brad Bird.
Design with a Purpose, an interview with Ralph Eggleston uses production art from Wall-E to illustrate the production design of Pixar's cautionary tale of a robot on a futuristic Earth.
Shedding Light on the Little Matchgirl traces the path director Roger Allers and the Disney Studio took in adapting the Hans Christian Andersen story to animation.
The Destiny of Dalí's Destino, in 1946, Walt Disney invited Salvador Dalí to create an animated short based upon his surrealist art. This writing illustrates how this short got started and tells the story of the film's aesthetic.
A Blade Of Grass is a tour through the aesthetics of 2D background painting at the Disney Studio from 1928 through 1942.
Lorenzo, director / production designer Mike Gabriel created a visual tour de force in this Academy Award® nominated Disney short. This article chronicles how the short was made and includes an interview with Mike Gabriel.
Tim Burton's Corpse Bride, an interview with Graham G. Maiden's narrates the process involved with taking Tim Burton's concept art and translating Tim's sketches and paintings into fully articulated stop motion puppets.
Wallace & Gromit: The Curse Of The Were-Rabbit, in an interview exclusive to this web site, Nick Park speaks about his influences, on how he uses drawing to tell a story and tells us what it was like to bring Wallace and Gromit to the big screen.
For a complete list of PUBLISHED WORK AND WRITINGS by Ron Barbagallo,
click on the link above and scroll down.
A Courvoisier Pinocchio cel setup which includes six trimmed hand-inked, hand-painted production cels and a full sheet effects cel (not seen here) applied to a hand prepared airbrushed background.
Authentic Courvoisier Galleries certificates from Walt Disney's 1940 feature film Pinocchio in fact feature the incorrect date: "1939."
Authentic "WDP" ink stamp
Courvoisier Galleries
133 Geary Street
San Francisco, California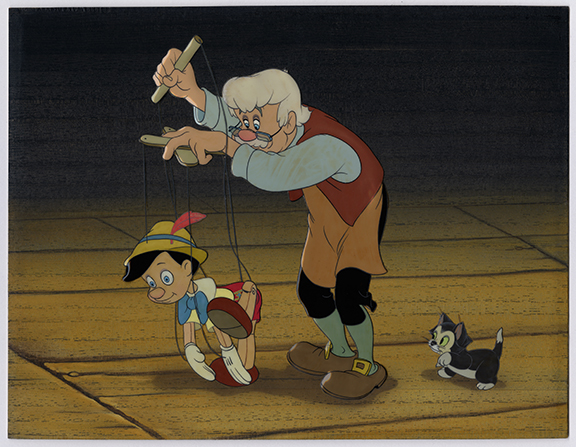 Three production cels, carefully trimmed to their outline applied to a hand-painted wood veneer cel setup from Walt Disney's 1940 feature film Pinocchio.