COPYRIGHTS AND RESTRICTIONS AND CONDITIONS OF THIS WEBSITE
Mike Kunkel's Herobear and the Kid is every animator's dream -- one rooted in childhood passions, and realized many years later through hard work and a single vision. It is also an independent comic book that was acquired in 2002 by Universal Studios, where Kunkel spent more than a year developing it into a full length 2D animated feature.
Told from the perspective of an adult reflecting upon his childhood, Herobear and the Kid is reminiscent of films like Stand By Me or A Christmas Story. It is about an eleven year old boy named Tyler who inherits a stuffed toy polar bear and pocket watch from his recently deceased grandfather.
One part mystery, one part small town story, Herobear and the Kid is not afraid to delve into the lost innocence and sheer joys discovered during childhood, and go there with genuine sentiment. Its children's book style of storytelling and Kunkel's substantial draftsmanship quickly set Herobear apart from the trite superhero and goth-soaked indie comic market of 1999. Within a short time, it has generated a loyal following.
As early as grade school, Kunkel developed a love for reading comics, drawing and telling stories. The original idea for Herobear first surfaced in high school and was a story Mike frequently revisited and re-sketched. Mike drew his way through a two year degree program in art from Moorpark College, and eventually found work as an animator on Warner Bros.' Cats Don't Dance and the Disney's Hercules. All the while, the idea for Herobear and the Kid traveled with him.
After years of thinking about it, and despite the concerns of raising a family and maintaining a full time job at Disney, Kunkel took the step that many in the industry only talk about. Over the course of a year long schedule, he wrote, drew, lettered and did the layout for the first issue of Herobear.
Published by his own company Astonish Comics, Tyler and his friend Herobear soared into comic shops in 1999 and the result is a labor of love carved out with a pencil. Drawn with a precision only found in a first rate character animator, Kunkel drafted poses with distinct personality and imbued emotion into every aspect of Tyler's graphite colored world. Unlike most comic books it was fully rendered in black and white and published with just the color red added to emphasis Herobear's cape.
In 2001, like Walt Kelly (Pogo) and Hank Ketcham (Dennis The Menace) -- two other Disney animators turned successful comic artists, Kunkel voluntarily left a successful career at Disney during times of economic and global uncertainty to continue to bring Herobear and the Kid to life.
When asked about its evolution from high school story to comic book, Kunkel said "I wanted to take it to the next step. I already boarded it out and wrote out a lot of the story. Let's take that and bring it to life. I always wanted to work on my own stuff. I loved animation. I still do. The fun is holding on to that childlike love of it."
On its transition to the big screen, Herobear's future writer/director Mike Kunkel had this to offer "Since the book came out, the response has been 'Wow, this is nostalgic,' 'Wow, I like this.' My hope is that the movie can somehow translate that and in the grander scheme of things connect with people; that it has a story with a real heart to it."
Detail of Tyler from the cover art of Herobear's first issue back in 1999 (top left).
Published in 2002, this panel from issue four shows Tyler as he watches Herobear change
from a stuff toy to a living bear (bottom left). Created for a special poster called Best Friends,
this art of Herobear and Tyler was also used for the soft cover trade paperback edition (right).
Loose development sketches of Tyler (top left) and Herobear (top right).
A drawing from issue three of Tyler and Herobear as they confront a robot named "X-5" (bottom).
All art work by Mike Kunkel.
All images copyright 2004 The Astonish Factory, Inc. All Rights Reserved.
The author would like to thank Mike Kunkel, Dave Smith, Ray Morton and Dave Koch for their help.
This article and interview is owned by © Ron Barbagallo.
ALL RIGHTS RESERVED. You may not quote or copy from this article without written permission.
YOUR USE OF THIS WEBSITE IMPLIES YOU HAVE READ AND AGREE TO THE "COPYRIGHT AND RESTRICTIONS/TERMS AND CONDITIONS" OF THIS WEBSITE DETAILED IN THE LINK BELOW:
LEGAL COPYRIGHTS AND RESTRICTIONS / TERMS AND CONDITIONS OF USE
INSTRUCTIONS ON HOW TO QUOTE FROM THE WRITING ON THIS WEBSITE CAN BE FOUND AT THIS LINK.
PLEASE DO NOT COPY THE JPEGS IN ANY FORM OR COPY ANY LINKS TO MY HOST PROVIDER. ANY THEFTS OF ART DETECTED VIA MY HOST PROVIDER WILL BE REPORTED TO THE WALT DISNEY COMPANY, WARNER BROS. OR OTHER LICENSING DEPARTMENTS.
ARTICLES ON AESTHETICS IN ANIMATION
BY RON BARBAGALLO:
The Art of Making Pixar's Ratatouille is revealed by way of an introductory article followed by interviews with production designer Harley Jessup, director of photography/lighting Sharon Calahan and the film's writer/director Brad Bird.
Design with a Purpose, an interview with Ralph Eggleston uses production art from Wall-E to illustrate the production design of Pixar's cautionary tale of a robot on a futuristic Earth.
Shedding Light on the Little Matchgirl traces the path director Roger Allers and the Disney Studio took in adapting the Hans Christian Andersen story to animation.
The Destiny of Dalí's Destino, in 1946, Walt Disney invited Salvador Dalí to create an animated short based upon his surrealist art. This writing illustrates how this short got started and tells the story of the film's aesthetic.
A Blade Of Grass is a tour through the aesthetics of 2D background painting at the Disney Studio from 1928 through 1942.
Lorenzo, director / production designer Mike Gabriel created a visual tour de force in this Academy Award® nominated Disney short. This article chronicles how the short was made and includes an interview with Mike Gabriel.
Tim Burton's Corpse Bride, an interview with Graham G. Maiden's narrates the process involved with taking Tim Burton's concept art and translating Tim's sketches and paintings into fully articulated stop motion puppets.
Wallace & Gromit: The Curse Of The Were-Rabbit, in an interview exclusive to this web site, Nick Park speaks about his influences, on how he uses drawing to tell a story and tells us what it was like to bring Wallace and Gromit to the big screen.
For a complete list of PUBLISHED WORK AND WRITINGS by Ron Barbagallo,
click on the link above and scroll down.
Since its publication in 1999, Herobear and the Kid has gone on to win an Eisner Award in both 2002 and 2003. It continues to be an indie comic book favorite whose fan base is as far reaching as small children who enjoy bedtime stories to those studying at Harvard University.
Currently Mike Kunkel is hard at work drafting the further adventures of Tyler and Herobear. He is also working on a variety of projects at Nickelodeon and Cartoon Network, where he is designing the characters for the show The Life and Times of Juniper Lee. This show was created by Judd Winick, who was part of the San Francisco cast of MTV's The Real World (1994).
For more information on Herobear and the Kid, check out: Herobear and the Kid.
Published in 2004, also by The Astonish Factory, Inc., The Land of Sokmunster combines the artistic talents of Mike Kunkel and Randy Heuser. It is one of several titles now published by The Astonish Factory, Inc., a company formed by Kunkel and co-creator Scott Christian Sava.
Look out for the sequel book to The Land of Sokmunster called Revenge of the Moth King.
For more information on The Land of Sokmunster and The Astonish Factory, Inc., check out the above links.
Alternate cover art for issue four.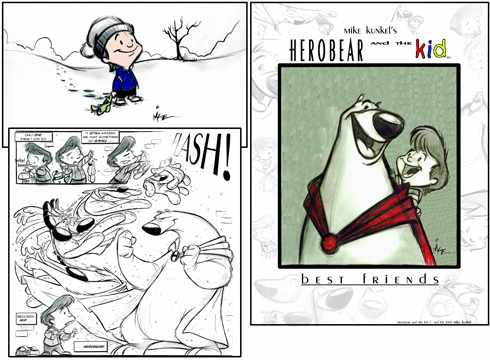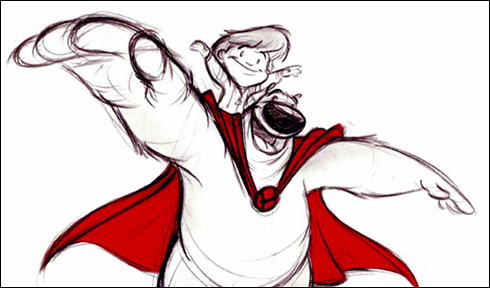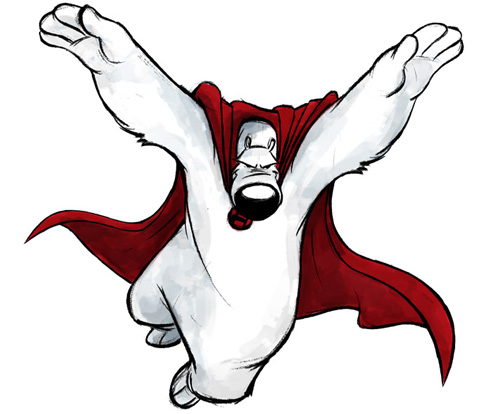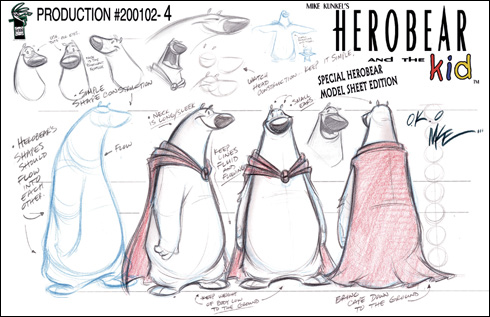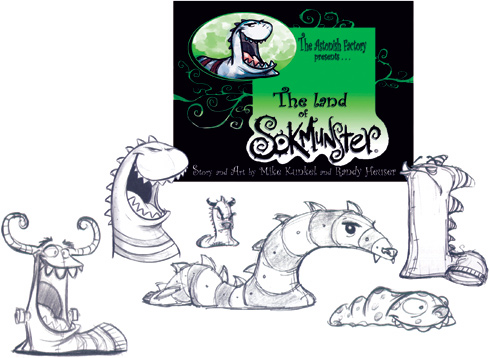 ADDITIONAL PUBLICATIONS BY MIKE KUNKEL:
THE LAND OF SOKMUNSTER GALLERY