COPYRIGHTS AND RESTRICTIONS AND CONDITIONS OF THIS WEBSITE
THE SHRINKING TRUTH ABOUT DISNEY plastic
THE SHRINKING TRUTH ABOUT DISNEY plastic
The Research Library at Animation Art Conservation announced on June 19, 2019 the results of a research project focusing on the plastics used to make Walt Disney Production Cels. A project 24 years in the making, the data released at this year's SAS conference in Lisbon, Portugal picks up where Ron Barbagallo, the Director of The Research Library at Animation Art Conservation, left off back in 1995 when through the Photographic Materials Group of the American Institute for Conservation (AIC), Barbagallo published a hypothesis about Disney production cels made of Di-Acetate: "Particularly apparent are the significant amounts of sheet shrinkage. A [Cellulose Di-Acetate] "cel" trimmed around the outline of a character and glued to a watercolor background will often show a mucilage glue stain around the outer area of the trimmed "cel" where the Acetate shrank away. It is not uncommon for an image which is 6 inches tall to lose 3/8 of an inch during a 40 year period." [Mickey, Donald, Goofy and Pluto: What's Breaking Up That Old Gang Of Mine]
24 years after that hypothesis was published, Barbagallo harvested data from a group of seven Disney Di-Acetate cels sold to the public. These cels were from the same collection and experienced the same environmental conditions before they arrived in Barbagallo's southern California facility where they stayed for over 20 years. The production cels and backgrounds were cleaned by Barbagallo and stored in housings and in boxes made with materials that reflect the best possible standards for the care of this type of art. For 20 years, the rehoused collection was stored between 68 - 72° Fahrenheit. The relative humidity ranged between 38 - 42%.
Using a polyester Schaedler® ruler, each cel painting and background were measured to a 64th of an inch 20 years earlier and 20 years later, and whether 6 46/64ths of an inch or 14 29/64ths of an inch in width or height, unilaterally each piece of plastic in the collection experienced the same loss: Each piece of plastic lost approximately 1/8th of an inch (give or take) in mass over a 14-18 year time period while being stored in what were recommended storage conditions. Each paper background in the same housing remained the same size it was decades earlier.
During this 2-decade study, the Image Permanence Institute A-D strips in each housing remained largely unaffected, suggesting the loss was not primarily due to Acetic Acid off-gassing. In speaking with research scientist Doug Nishimura who was involved in the creation of these A-D strips, Nishimura told Barbagallo: "Most likely your shrinkage is a loss of molecules from the gross polymer. Sources may be decomposition products from the deteriorating polymer, loss of plasticizer compatibility and consequent loss, or residual casting solvents."
To determine what plasticizers were present in the seven Disney cel setups, and if all seven of the plastics were the same material, Barbagallo went to conservation scientist Michele Derrick. By way of their collaboration, Derrick has 3 decades of experience in analyzing the plastics used to make Disney Animation Art. She can also compare those materials against Animation Art made by nearly every other major animation studio. Due to this, Barbagallo's and Derrick's ability to delve into their data from the last three decades and compare it to samples taken today is unique.
In regard to the seven Disney Di-Acetate samples used in this project, Derrick's test results revealed that all seven of the cel paintings were primarily composed of Cellulose Di-Acetate. This is whether the cel paintings were art from "The Reluctant Dragon" (1941), or different sequences in "Fantasia" (1940), or "Dumbo" (1941). Closer comparison of the smaller bands in the seven samples indicates that there were two primary plasticizers used in these cels. One group (cels C: Mushrooms 1, E: Goofy and F: Dumbo) are similar and exhibit small bands that best corresponds to the plasticizer Triphenyl Phosphate. The second group of cels (A: Goofy and Percy, B: Baby Pegasus, D: Mushrooms 2, and G: Dumbo and Timothy) are similar to each other and different from group One. The plasticizer that best corresponds to this group is Ethyl Phthalate, although other Phthalates would produce similar bands.
After 18 years, the A-D Strip on the left remained largely unchanged when compared to a brand new A-D Strip seen on the right.
Cel setup image is an overlay image of two flatbed scans made 18 years apart - Before image: 1999 // After image: 2017
Images from The Research Library at Animation Art Conservation
Thanks Doug Nishimura and Michele Derrick for their help with this project.
Thanks to Barbara Brown for help in preparing this writeup.
Images are from The Reseach Library at Animation Art Conservation / Content: © Ron Barbagallo.
ALL RIGHTS RESERVED. You may not quote or copy from this article without written permission.
YOUR USE OF THIS WEBSITE IMPLIES YOU HAVE READ AND AGREE TO THE "COPYRIGHT AND RESTRICTIONS/TERMS AND CONDITIONS" OF THIS WEBSITE DETAILED IN THE LINK BELOW:
LEGAL COPYRIGHTS AND RESTRICTIONS / TERMS AND CONDITIONS OF USE
INSTRUCTIONS ON HOW TO QUOTE FROM THE WRITING ON THIS WEBSITE CAN BE FOUND AT THIS LINK.
PLEASE DO NOT COPY THE JPEGS IN ANY FORM OR COPY ANY LINKS TO MY HOST PROVIDER. ANY THEFTS OF ART DETECTED VIA MY HOST PROVIDER WILL BE REPORTED TO THE WALT DISNEY COMPANY, WARNER BROS. OR OTHER LICENSING DEPARTMENTS.
ARTICLES ON AESTHETICS IN ANIMATION
BY RON BARBAGALLO:
The Art of Making Pixar's Ratatouille is revealed by way of an introductory article followed by interviews with production designer Harley Jessup, director of photography/lighting Sharon Calahan and the film's writer/director Brad Bird.
Design with a Purpose, an interview with Ralph Eggleston uses production art from Wall-E to illustrate the production design of Pixar's cautionary tale of a robot on a futuristic Earth.
Shedding Light on the Little Matchgirl traces the path director Roger Allers and the Disney Studio took in adapting the Hans Christian Andersen story to animation.
The Destiny of Dalí's Destino, in 1946, Walt Disney invited Salvador Dalí to create an animated short based upon his surrealist art. This writing illustrates how this short got started and tells the story of the film's aesthetic.
A Blade Of Grass is a tour through the aesthetics of 2D background painting at the Disney Studio from 1928 through 1942.
Lorenzo, director / production designer Mike Gabriel created a visual tour de force in this Academy Award® nominated Disney short. This article chronicles how the short was made and includes an interview with Mike Gabriel.
Tim Burton's Corpse Bride, an interview with Graham G. Maiden's narrates the process involved with taking Tim Burton's concept art and translating Tim's sketches and paintings into fully articulated stop motion puppets.
Wallace & Gromit: The Curse Of The Were-Rabbit, in an interview exclusive to this web site, Nick Park speaks about his influences, on how he uses drawing to tell a story and tells us what it was like to bring Wallace and Gromit to the big screen.
For a complete list of PUBLISHED WORK AND WRITINGS by Ron Barbagallo,
click on the link above and scroll down.
In 2002, the cel painting measured: 11 26/32 ̈ along the bottom edge and 10 35/64 ̈ along its left side.
In 2017, the cel painting measured: 11 21/32 ̈ along the bottom edge and 10 27/64 ̈ along its left side.
Animation time lapse: 15 years.
Images from The Research Library at Animation Art Conservation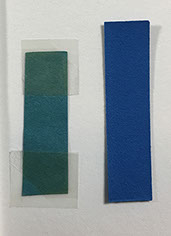 The supporting data, and time-lapsed animated films showing precisely how each cel painting shrank were presented to conference delegates for the first time at the Society for Animation Studies (SAS) 31st conference held at the Univesidade Lusófona de Lisboa on June 19, 2019 in Lisbon, Portugal. The talk was entitled "THE SHRINKING TRUTH ABOUT DISNEY plastic."
"What better way to show how Disney Di-Acetate shrinks than to use Animation as your tool?" Ron Barbagallo told the class as he unveiled his films showing how much Disney Di-Acetate shrinks. "I was first approached by Walt Disney Feature Animation and Disney Consumer Products in 1995 after I published my hypothesis through the AIC stating how prone to shrinkage Disney Di-Acetate is. Disney was willing to make a series of cel paintings for me on a variety of polyester substrates I provided to them but they had no interest in paying to have the cel paintings tested. So the project was killed. Disney continued making art on Acetate despite the warning."
"There's been a lot published in the last few years by people suggesting the study of deteriorating Cellulose Nitrate or Cellulose Acetate is something new or something fixable." Barbagallo went on to say. "In truth, this type of research dates to the 1920s with published works by Dr. Peter Adelstein dating to the 1970s. The Image Permanence Institute published the largest research project to date in 1987, while Michele Derrick and I, through our collaboration, have the longest consistent scientific record documenting the degradation of these types of painted plastics."
"While no one is suggesting anyone involved in these findings is a toxicologist," Barbagallo said. "... and being fully aware that certain US agencies may suggest it's safe to ingest small amounts of chemical off-gassing, there is an issue regarding having a quantity of these off-gassing cels in someone's environment which causes me to ask:
How many mothers would want their children to ingest ANY amounts of chemical byproducts by way of displaying Disney art in a room where Acetic Acid, Triphenyl Phosphate, Ethyl Phthalate, and other Phthalates were openly being expelled?
It's not uncommon to own a piece of art for 14 years, to say nothing of the implications of owning collections of this sort of art for 55 years where upwards to a half an inch of plastic by the height and width of the art would be expelled into the air. There is a liability to the manufacturer, especially when one considers that there are and were alternative substrates readily available, and that this type of research has been out there for a very long time."
Conservation Science by Michele Derrick
Images from The Research Library at Animation Art Conservation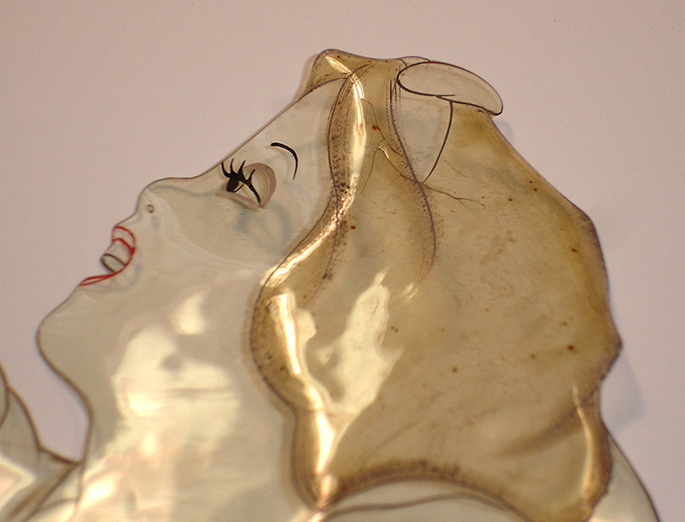 Disney cel plastic pre-1940s was a substrate made of cellulose nitrate.
A buoyant plastic at the time it was created, this plastic over the course of the last 32 years has gone from having the quality and timbre of a piece of tin plate ceiling tile to a tightening, brittle plastic with many crisscrossing fissures that can be found throughout this type of plastic. What's causing it? The release of camphor, the plasticizer in this type of plastic. In its final stages, these types of cracks within Snow White art will reduce her substrate to a pile of tiny crystals created by all these overlapping cracks.
Image from The Research Library at Animation Art Conservation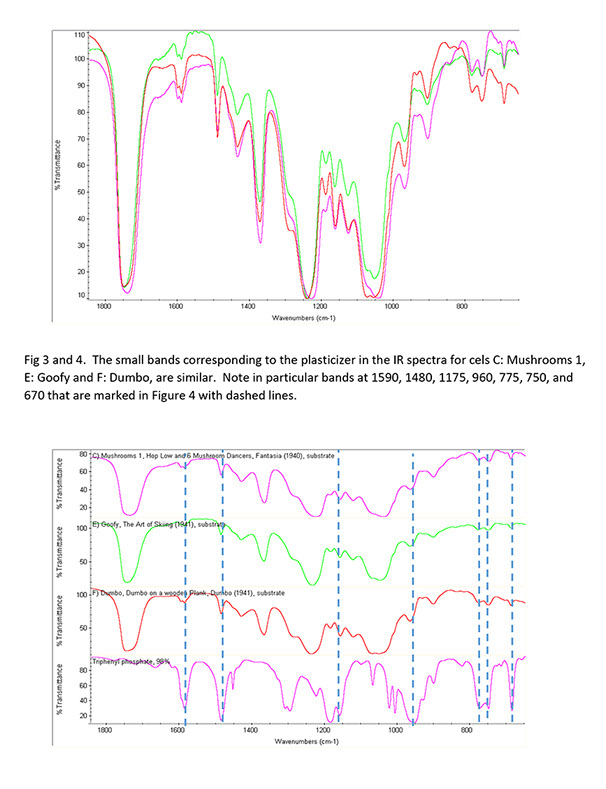 By contrast, Ron Barbagallo, the Director of The Research Library at Animation Art Conservation, displayed samples of where Disney Cellulose Nitrate and Cellulose Tri-Acetate is in 2019.